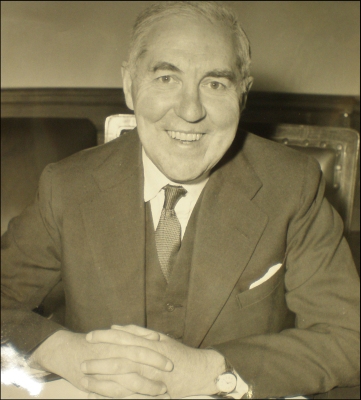 LORD BROOKE OF CUMNOR
was MP for Hampstead and Home Secretary (1961-3).
Had earlier been deputy director of Tory Research Dept. and chairman of 'Truth' publishing company.

(Right) Grave at Denham of Robert, Baron VANSITTART. Ousted from Chamberlain government for leaking information to opponents of Appeasement. Sponsored investigation of 'Truth'. But became chiefly known for his strongly anti-German views.
Cabinet Conspiracy 3

The truth about

Truth
The Jewish community was concerned about
Truth
. "For a considerable number of years part it has been easily the most venomous antisemitic paper in this country, all the more dangerous as its antisemitism has been of an insidious and subtle nature," Sydney Salomon told the Board of Depu­ties' Jewish Defence Committee.
"Efforts have been made both in public and private to combat this policy. There are forces behind [it] which are obviously of a powerful nature, but they keep carefully in the background. We have not yet, however, abandoned hope of forcing them out into the open."8
During the war, with
Truth
maintaining its antisemitic line, the Board was told: "There is still a very strong feeling that the [Conservative] Cen­tral Office is interested in this paper."9
On 13 October 1941, Labour MP Josiah Wedg­wood raised a Commons adjournment debate on
Truth
:
"It is widely read, not so widely as the
Daily Worker
," he conceded (an allusion to the government's ban on that paper), "but very widely in the clubs and messes, by that large class of people who are referred to as the governing class in this country." Describing it as "pro-fascist" and "antisemitic", Wedgwood mentioned
Truth'
s attacks on Jews, including Belisha, Labour MP GeorgeStrauss,Neville Laski and VictorGollancz, and "numerous libel actions" it had faced.
"As in the case of all newspapers, there is somebody at the back of this newspaper. It must be owned by somebody. There are 1,920 shares of which 1,800 are in the name of Lloyds Bank, probably held for other people as nominees." The shares were £10, Wedgwood said, but he did not believe
Truth
could have paid its way with a capital of £18,000, "seeing the damages they have had to pay in these libel actions". He judged that the money behind the magazine had come from the National Publicity Bureau initially, and then from Tory Party funds.
Although shares had been shuffled around, "through these kaleidoscopic changes there appear the figures of Mr Crocker and Sir Joseph Ball, not as directors but as connected with
Truth
. I understand these people are also in the Swinton Committee [the government's Security Executive]... I am more anxious to get the attitude of the Swinton Committee towards the fascists and towards the Jews, changed than even to get a change in the editorship of Truth".
It was certainly ironic, if not something more, that while Ball had become deputy chair of the Swinton Committee and brought along his friend, Charles Crocker, a director of
Truth,
that magazine was attacking the 18B internment law over which the C ommittee presided as "Jewish revenge", and stoutly defending interned Nazi sympathisers like Admiral Sir Barry Domville! (The Swinton Committee also directed the internment and depor­tation of Jewish refugees and other "enemy aliens").
During the debate, Aneurin Bevan remarked: "I understand that until recently the Hon. Member for West Lewisham was an official of the Conser­vative Central Office and at the same time chair­man of
Truth
." The "honourable" Member for West Lewisham, until he lost his seat in 1945, was Henry Brooke, later returned for Hampstead; Housing Minister (1957-60); Home Secretary 1961-63). Between 1936 and 1939, Brooke was deputy director of the Conservative Research Department and chairman of the Truth Publishing Company. This was mentioned by Horace B Samuel in a letter to
Time and Tide
, published on 22 November 1941.
Sir Robert Vansittart, whom Chamberlain had sacked from the Foreign Office, engaged Samuel to conduct a confidential private enquiry into
Truth
. He found that in June 1936, after Labouchere had died, the bulk of shares in
Truth
had been acquired, via Lloyds Bank, by Lord Luke of Pavenham, a close associate of Sir Joseph Ball and chairman of the National Publicity Bureau's business commit­tee. To conceal the link with the Bureau, whose funds had been used, shares were handed out in small bundles to associates of Luke and Ball. Henry Brooke took 10. When he became an MP, he passed them over to Crocker.
Samuel's report to Vansittart was that Cham­berlain and Ball were behind Truth's attack on Hore-Belisha: "a deliberate effort to kill Belisha once and for all as a political force".10
Chamberlain died in November 1940. Truth carried on. A fortnight after its ownership had been raised in the Commons in 1941, a block of 1,800 shares was quietly shifted to editor Colin Brooks. W C Crocker resigned his directorship. The following year Ball left the Swinton Commit­tee. He remained at the Conservative Research Department until after the war. In 1942, Conserva­tive Party chairman Sir Thomas Dugdale, com­plaining that the Party had no press to call its own(!), told
Truth'
s editor that his was "the nearest to a dependable organ' . 11
RA Butler, who took over the CRD in 1946, said he found "no funds or even records". Chris Cooke's
Sources in British Political History,
noting that cer­tain CRD records remain confidential, adds that most old files were destroyed anyway, "partly the result of a wartime fire, and partly of a conscious policy". The entry for Henry Brooke says: "Lord Brooke states that he has not discovered any papers which would be of interest."
In 1952-53,
Truth
passed into new hands. Editor A.K .Chesterton was dismissed. (Ex-Mosleyite Chesterton started a paper called
Candour
and the League of Empire Loyalists. He later became a founder of the National Front.)
In 1954 Truth printed an apology to Leslie Hore-Belisha for having made "unfair and baseless attacks upon him motivated by racial prejudice". Better late than never! The paper ceased publication two years later.
In 1956, Sir Guy Kindersley wanted to publish his account of how he had brought the Zinoviev Letter to Tory Central Office. He was invited to a City office where Sir Joseph Ball persuaded him that certain things should remain concealed. Lord Davidson said Ball "is undoubtedly tough and has looked after his own interests... On the other hand, he is steeped in the Service tradition and has as much experience as anyone I know of the seamier side of life and the handling of crooks."
When Henry Brooke became a minister in the 1960s, people were too polite to mention his past (Brian Pearce, in
The Newsletter,
19 March 1960, was an exception), even when he was being peti­tioned, as Home Secretary (and author of the Immigration Act) to do something about racists and fascists. (He strengthened the Public Order Act instead.) This is a matter of Tory Party, not individual, history; but until recently even some historians have seemed unwilling to look into it.
Leslie Hore-Belisha was one of theirs, if not quite one of them. As a Jew he was disposable and they didn't mind how they did it. Neville Cham­berlain was, according to James Margach, "the first Prime Minister to employ news management on a large scale". Nowadays, of course, the tech­niques of media manipulation and "dirty tricks" are much more advanced and sophisticated, and those who wield them at least as ruthless.
Notes:
1. The Diaries of Sir Alexander Cadogan, 1938-45, edited by David Dilkes (Cassell).
2. Doctor in the Whips' Room, by H Morris-Jones, cited in Tony Kushner, Persistence of Prejudice (see Further reading).
3. The Private Papers of Hore-Belisha by RJ Minney (Collins 1960).
4. "Coy Connection" by Brian Pearce, The Newsletter (Socialist Labour League, 19 March 1960).
5. Anthony Eden by Robert Rhodes-James.
6. TJ Hollins (see Further reading).
7. Arnold Beichman (see Further reading).
8. Antisemitism in British Society by Colin Holmes (Edward Arnold 1979).
9. Quoted by Tony Kushner (see Further reading).
10. Richard Cockett (see Further reading).
11. Tony Kushner (see Further reading).
Further reading:

Books
The Zinoviev Letter by Chester, Fay and Young
Twilight of Truth by Richard Cockett (Weidenfeld 1989).
Examines Chamberlain's press manipulation. Has gone
into Vansittart papers and boldly exposes Ball's link
with
Truth.
Collar the Lot by Peter and Lenni Gillman (Quartet 1980).
Wartime internment and deportation of refugees, with
interesting sidelight on Ball and 18B, etc.
The Persistence of Prejudice by Tony Kushner (Manchester
University Press 1989). A thorough survey of British
antisemitism during the "war against fascism"; also
raises questions about attitudes on the Left.
The Abuse of Power by James Margach (WH Alien 1978).
The Private Papers of Hore-Belisha by RJ Minney (Collins
1960).
A Class Divided by Robert Shepherd (Macmillan 1988).
Articles

Anthony Adamthwaite: "The British Government and the
Media, 1937-1938", Journal of Contemporary History, vol
18, April 1983.
Arnold Beichman: "Hugger-Mugger in Old Queen Street"
Journal of Contemporary History, vol 13,1978.
TJ Hollins: "The Conservative Parry and Film Propaganda
Between the Wars", English Historical Review, vol XCVI,
no 379, April 1981.
Acknowledgments
:
Thanks are due to the late Brian Pearce for first arousing my curiosity about the connection between the Tory party and
Truth
magazine, when he pointed out that then Home Secretary Henry Brooke had omitted this involvement from his entry in
Who's Who
.
Thanks also to historian John Hope, who was able to give me details of archives he had seen which supplied some missing links in this story. If I did not take the time and trouble to follow his leads to primary sources, I nevertheless drew confidence from his confirmation that I was more or less on the right track.
Thanks to the editors of
Jewish Socialist
magazine for giving this article its first airing, in issue No.19, Spring 1990.